Challenges in Gender Equity Infographic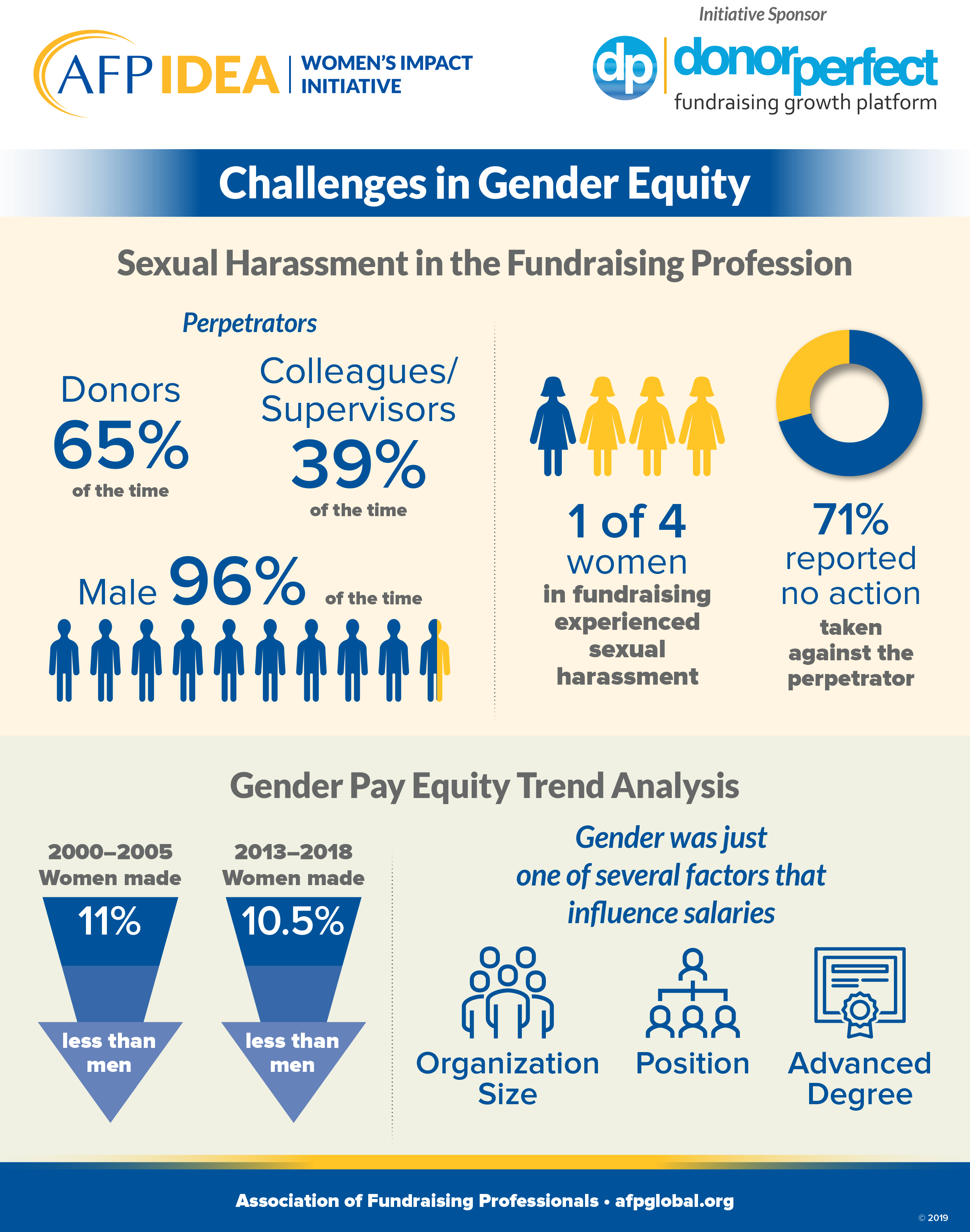 Download and Print the Infographic
---
Awareness
One of the goals of the initiative is to raise awareness—through targeted social media campaigns, and articles that share people's stories. Another key aspect to raising awareness is our collaborations with other organizations.
All Women's Equal Pay Day - Social Media Blurbs
Asian-American Women's Equal Pay Day
March 8 Townhall Webinar Recording
Women's Impact Initiative Press Release
Be a social media ambassador by using the the hashtag #WIILead
As we continue to partner with organizations to raise awarness of gender inequity issues, we will list them below.
#TimesUp for Sexual Harassment in Fundraising
According to a study by AFP's Women's Impact Initiative, nearly half of fundraisers have experienced, witnessed, or heard about sexual harassment on the job.
Produced by DonorPerfect, #Times Up for Sexual Harassment in Fundraising is a free e-book designed to provide nonprofits with:
Recent data on sexual harassment in fundraising
Best practices on creating a culture of safety, respect, and open dialogue
A sexual harassment policy template specifically written for nonprofits
DonorPerfect's "The Nonprofit Leadership Workbook for Women"
Get tried-and-true advice, best practices, and valuable exercises to equip and inspire you to pursue leadership positions within your organization. Download Now! #SheLeads
The Provocateur Blog - WII Taskforce Member Andrea McManus shares her own personal experience with sexual harassement.
Against All Odds - Salvation Army Blog Highlights WII Taskforce Member, Helen Choi, CFRE
Ms. Rupt Now - a community of women fundraisers who embrace diversity of thought, experience and opinion, disrupt the status quo, move philanthropy forward and lift each other up.
Hilborn Charity eNews article highlighting the Women's Impact Initative: https://charityinfo.ca/articles/WIIAFP
Ten Steps Nonprofits Can Take to Close the Pay Gap for Women - The Chronicle of Philanthropy, AFP's partner on its recent sexual harassment survey, consulted a variety of nonprofit practitioners and experts who shared ten steps that managers can take to help shrink the pay gap between men and women. Many thanks to the The Chronicle for providing this article to AFP members from their subscriber-only content.